Medical Website Design
At Medical Media we believe that you should get the web site you want for a price that's right. Unlike many web site design companies we do not use templates to design our web sites. Every site, whether a one page web presence or a comprehensive web site is a one off design, ensuring your web site is going to stand out from the crowd.
Our web site design solutions are created to provide the best possible flexibility and choice for our customers, while at the same time providing everything you will need. Whether you are new to the world of websites or looking to update, expand or revamp your existing site, we can cater to your needs. With a personal service and client relationship that grows and develops with your business.
Call us on 0845 1260900 for a free consultation and advice on the most productive web solution to suit your needs.
The Design Process
Before beginning the design of your web site we will have a short consultation about your preferences and any design criteria, such as colour, branding, corporate look or feel, so we are able to construct a design to suit your particular needs.
We will then produce a design concept for the front page of your website and provide you with a preview of this design. We can then adjust the design as needed until your are happy with the overall look and feel.
Delivery Times
We aim to complete all the web sites we design within one month of initial deposit, unless otherwise stated when ordering. The size and complexity of your web site, along with your ability to provide our design team with the content that you would like on the site greatly influences the time it takes to complete. If all the information is present at the time of ordering this will greatly speed up the process.
Our One Page Web Presence Deal can usually be completed and live on the Internet in under two weeks.
Ask us a Question / Enquiry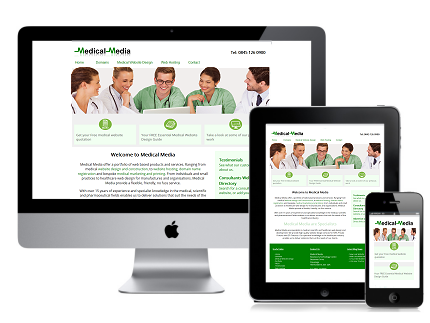 Responsive Web Design
Responsive Web Design(RWD) is a technique for construction websites that will work on mobile devices such as tablets and mobile phones as well as traditional desktop screens.
The elements on the web page adapt in size, location and orientation to fit the size of the screen that the visitor is using.
With search engines placing more and more emphasis on mobile friendly websites, it pays to have a site that complys to the latest requirements.
Contact Us
Medical Media
Business & Technology Centre
Bessemer Drive
Stevenage
Hertfordshire, SG1 2DX
Tel: 0845 1260900
Send us a message Here