Content Management Website Design
Content Management systems (CMS) enable you to be directly in control of the content on your website. By loggin into an Administration section of your website you are able to select the page you wish to edit and change the text/images on that page and update your website instantly.
It's simple user-friendly online editing system enables you to make changes to your website from any computer with an internet connection via a web browser.
No technical knowledge of web design needed. If you are able to use a word processor, then you will find content management easy and intuitive to use.
Call us on 0845 1260900 for a free consultation and advice on the most productive web solution to suit your needs.
Content Management Frequently Asked Questions
---

Can I add images, links, PDF downloads, etc to my website using Content Management?
Yes.
---

How long does it take to update my live website using Content Management?
Once you have made the changes to your site within the Content Management
interface and click the Update button, your live website is updated instantly.
---

Do I have to install any software on my computer?
No. Content Management works through a web browser, so no special software
is needed.
---

Can I use the Content Management System offline?
No. Content Management requires you to login to the system via a web browser while
connected to the Internet. An internet connection is essential.
---

Are there any limitaions to the number of times I can update my website using Content Management?
No. You can change it as often as you like.
---

What if I make a mistake and need help?
Content Management is very easy to use, but if you do have a problem or need
any help or guidance, you can speak to your web designer who will be happy to
assist you.
---

Can I add Content Management to my existing website?
In some respects yes. We can create a website to look like your existing website,
but in order to use Content Management, your site will effectively be created
from scratch.
---

Do I have to have my website hosted by Medical Media?
No. You can host your website where ever you like as long as the hosting service
meets the requirements needed to run the Content Management System.
---

Medical Media are designing my website. Can I have Content Management?
Yes. But please make sure you tell us you would like the service before we start
designing your website, or there could be additional costs involved.
---

How much does the Content Management cost?
It all depends on the size and complexity of your website. Give us a call and we can provide a quote.
---
Please contact us on 0845 1260900 to find out how cost effective Content Management will be for your website.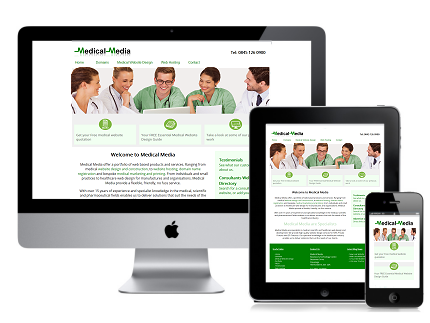 Responsive Web Design
Responsive Web Design(RWD) is a technique for construction websites that will work on mobile devices such as tablets and mobile phones as well as traditional desktop screens.
The elements on the web page adapt in size, location and orientation to fit the size of the screen that the visitor is using.
With search engines placing more and more emphasis on mobile friendly websites, it pays to have a site that complys to the latest requirements.
Contact Us
Medical Media
Business & Technology Centre
Bessemer Drive
Stevenage
Hertfordshire, SG1 2DX
Tel: 0845 1260900
Send us a message Here